---
School Hires 'computer whiz'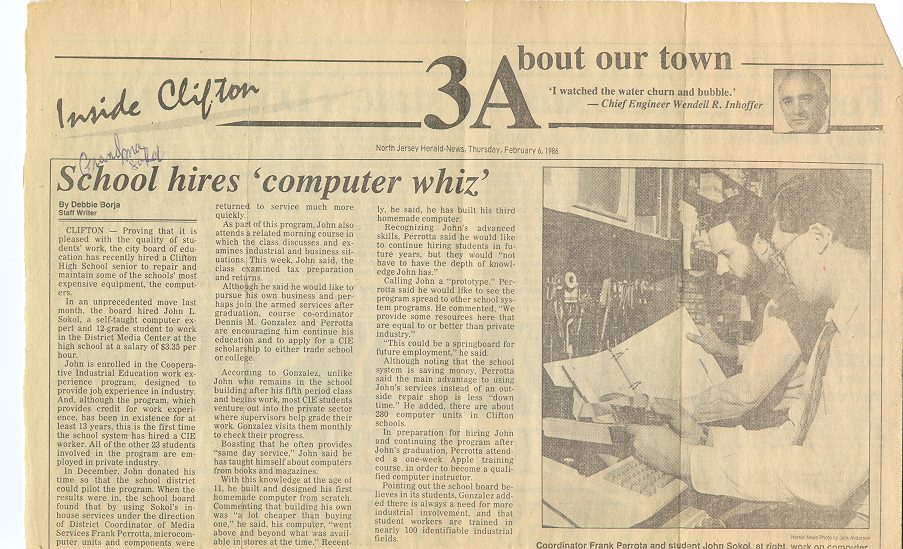 Feb 6, 1986 from Clifton New Jersey. Left is Frank Perrota, right is myself John Sokol.
Yes that's an apple 2 in the image.
Can't change my grades when I was officially in charge of the schools computer that processed the report cards. They always verified mine manually for some reason. the .
More about Clifton High School and my time there

---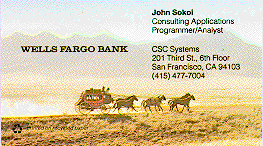 Worked at Wells Fargo.
---
Press Releases referring to me
DirectNet forms Process Network Productions; plans to open Westside content development studio Jan. 26, 1996

CGW Appoints Internet Guru John Sokol, Consolidated Goldwin Prepares Rollout of Next-Generation Internet Network Technology - SDSN Oct. 12, 1999
---
Made up words that became part of the English Language
100% for sure - Livecam & CyberCast.
Possibly, Video Streaming, Nisvara, Enumera, OS Unraveling, Dongle,
I'm sure there's more.
---

A Dangerous Bunch
From and API article on DSL problems 4/2001.
From Left to Right, Jesse/Jesus Monroy, John Sokol, Allen Kukucka, Terje Oseberg
---
---
1U Video Server, Livecam
Click here to enlarge
Enumera RackMount
---
Silent Computing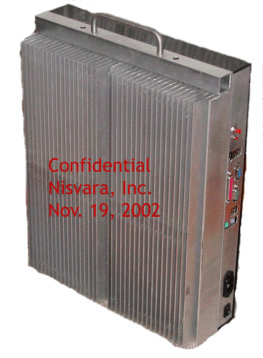 Click here for larger image
For Article
Red Herring article on this
---
Music on Silicon

Chuck Moore CPU, I worked with Chuck to build a Multi-CPU core.

In the future all music will be sorted on Chips
---
Meshcast Full Bussiness plan online: Another startup attempt doing live Peer 2 Peer Audio Streaming, never was able to get funding
---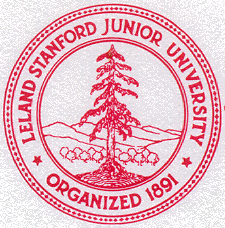 Papers Co-authored at Stanford University
---

MicroMetric, Ultra High Precision measuring microscope
Image is a magnification of a GMR Hard Disk Head.
Micro-Metric, Inc. Web Site
---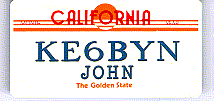 HAM CALL KE6BYN

Free Space Laser Communications 35 Miles - June 1993 - AM Video and PWM Audio
---
Zebra Research Inc., Audio Byte Sound Adapter, for Parallel port Sound Adapters | More Photos


The Original Parrallel port Audio dongle Enlarge
---

StellarDesigns Laser Show Company, Based in New Jersey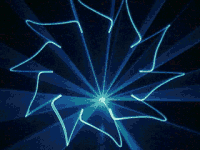 ---

March 14,1997 Cyber Cast of Arthur C. Clarke Live from Sri Lanka to UIUC near Chicago.
Using the Livecam Video Server we streamed Live video from Chicago, USA (41°53' N, 87°40' W) and Colombo, Sri Lanka (6°55' N, 79°52' E) is approximately 14442 kilometers, (8975 miles). The Vosaic developers at UIUC turned down the task feeling there MPEG Streaming technology would not work. Using the SPAC Streaming Protocol we were able to over come long latencies and high loss to transmit high quality video that could be projected on a huge 70mm theater screen.

The System work so well we were invited to do a live event with Sir Arthur C. Clarke "A Day on Europa" May 21, 1998 at Nasa/JPL Caltech and again for the April 30, 1998 American Film Institute in Los Angeles. <- see wired article with Tom Hanks and Bill Anders (Apollo 8 astronaut).
See Recorded stream of this event
---


High Speed Zip code search engine. No Longer Up was in 1996 at http://www2.paramount.com/homevideo/stores/index.shtml
Click Here for demo
---
Working briefly with Timothy Leary
---

Streaming VRML, from Motion Capture system across the internet Electronic Cafe, Press Release
---

Eden Fest Rock Concert Cybercast
3 days 2 stages 60 Bands, 60,000 People at the Mopar Speedway in Toronto, Canada ,3000 Internet Viewers see live streaming video in July 1996.
---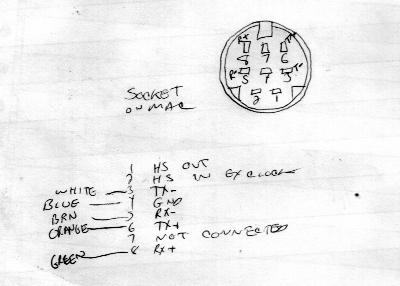 Some Electronics Stuff I did while I was in my Teens.

This Web site Created with 100% recycled Bits