From Electronic Cafe VRML section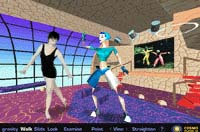 OpenHouse & Hosted Party at
Electronic Cafe International-Santa Monica World Headquarters
*Live Web Cast Of Party and Performance Encounter*

7PM to Midnight
Wednesday, August 6th 1997

FEATURING:

"The Encounter"
A first-time collaborative performance between a fully motion controlled VRML-Celebrity in the SGI booth at SIGGRAPH (Bliss from Blitcom/Cosmo), and a video rendered avatar at ECI in Santa Monica, Mona Jean Cedars -- including the passing of the torch from the video avatar to the VRML avatar. This will be achieved by combining live VRML motion control streaming and live video streaming (GTS) over the net. This event commemorates the 20th anniversary of the first time humans seperated by great distances performed together in an emersive videospace (Satellite Arts Project, Galloway/Rabinowitz, 1977)

AND

Hosting the Official LA VRML User Groups (VUG) Siggraph Party. Review the LA-VUG's VRML Barn Raising of ECI Review the Best of VRML selected by the Siggraph VRML SIG. Showcases by HollyWorlds and CyberTown. At the longest established "cyber" culture venue in the world. Real people, in real places, in realtime
***Catering (Darn good FREE FOOD, and drink)***
Extra seating and 'what's up' video projection in the front patio.
Event Sponsors:
*Cosmo Software, a Silicon Graphics Company) (Primary Sponsor)*
*Ascend Communications* *Graham Technology Solutions*
*John Sokol, International Digital Broadcasting Systems*
*LA VRML Users Group* *HollyWorlds* *CyberTown*
*Metawire* *LA Bridge* *EIS (Video projector)*
*Performance Animation Society
Feature Performance starts at 8:30pm:
The Encounter"
1- The Cosmo created VRML character (Bliss) will be controled by an actor in an Asension motion caption system in the SGI booth at Siggraph.
2- ECI will receive the VRML motion data assisted by John Sokol's technique of streaming data over the net. That in turn, will anamate the live VRML avatar character at ECI.
3- ECI will convert the VRML world and motion controled avatar into video.
4- Then chroma key our live video avatar/performer into the video version of the VRML world.
5- Then video webcast the live composite video image of both avatars together in the same image back to the SGI booth using Graham Technologies video streaming so that both performers/avatars see each other together and are then able to perform together in the live composited video/VRML image mix.
6. Live Webcast through Graham Technology Solutions accessed through Electronic Cafe International website, www. ecafe.com.
The resulting performance video recording will be played back repeatedly throughout the remainder of the evening, and MPEGed and streamed off a website to extend the life of the event.
CREDITS:
Cosmo Software (A Silicon Graphics Company): Bill McCloskey
Blitcom: Mark Pesce, Jan Mallis, Margo
Bliss: Motion Controled VRML Avatar
Performed by: Mary Ann Daniel
Creative Diector: Celia Pearce, Momentium Media Group
Bliss figure: Bay Raitt
Bliss' Room/world: Jim Ludtke
Bliss' Theme: Paul Godwin
Mona Jean Cedars Video Avatar at ECI
Noah Bogan/Minnie More Event Flyer Designer
Telecollab Concept: Kit Galloway & Sherrie Rabinowitz, ECI
Directions to ECI-Santa Monica:
From the Santa Monica Freeway (10) heading West, exit at Cloverfield/26th Street, turn right (N.) toward Olympic Blvd., go left (W. to 18th Street, go right (N.) to the end of 18th (1/2 block) then turn right into the parking lot. The Electronic Cafe is located on the S/E corner of the parking lot at the 18th Street Arts Complex. From the beach, take any street East to 20th St., if Pico go Left (N.) to Olympic Blvd. and turn Right (W.) and go to 18th. From North of the 10 FRWY, get to 20th & Olympic then go West two blocks to 18th. (Our part of 18th Street is not a Through Street).
Come join in the fun and the community!
BACK TO ECI VRML